Google Street View Photography
What is Google Street View?
Put simply, it's a virtual tour of your business, loaded directly into Google Maps and accessible through the Google Search engine. It allows potential customers to "See Inside" your business before visiting. It can be viewed on a desktop, tablet or smartphone. You can move from point to point in the tour to get a feel for the overall layout of a business.
Certified Street View Professional

Photographer Jason Pleakis is a Google Certified Street View Photographer. He's met the requirements as part of the Google Street View Program and shoots high quality imagery on Google Approved photography equipment, and follows all guidelines for quality set forth by Google.
Why do I need it?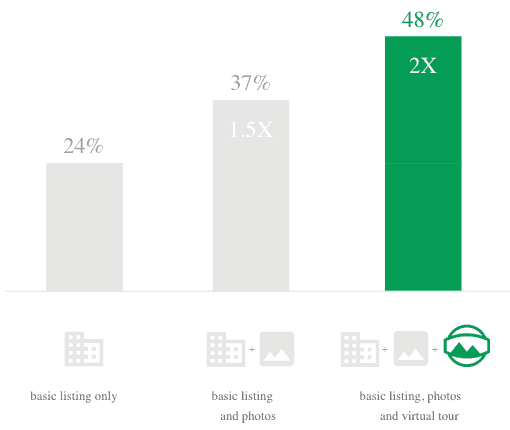 According to Google, Virtual Tours help double interest in business listings, and among 18-34 year-olds in particular, prospects are 130% more likely to book based on a tour. In greenville, there aren't a lot of businesses with Street View tours, which can really help set your business apart. Greenville has a booming tourism industry, and visitors from out of town will be searching for places to stay, eat, and have fun. Will the photos on your website be enough to entice them to visit?  Additionally, having a street view tour further completes information on your google plus page, increasing the value of your site to google, possibly boosting your search rankings.
It sounds complicated.
It's actually really easy, and requires no technical knowledge on your part. Here's how the process works:
Shoot – The photographer will meet you at the business, typically 30-60 minutes before opening, or on a day when very few people will be in the space and shoot the photos. The process is quick – usually 30-60 minutes depending on the size of your business.
Review & Approve – Usually the next day, your photos will be processed and uploaded to google and sent to you for approval, where you'll be able to review all shots and the layout of the tour.
Publish – Once you've approved the shots, we'll publish them to Google and they'll show up in Google maps and Google Search listings for your business. You'll also get all of your shots in Facebook-ready 360 format to upload to your own facebook page.
You'll want to make sure you have claimed your Google+ page for your business and updated it with your proper address, phone number, store hours, etc prior to the photoshoot. If you haven't done so, we can assist in this process, but it can lead to delays if your business isn't already setup within google maps and google plus.
Pricing
Pricing is all inclusive. It includes the the shoot itself, all post-processing, and publishing your tour to google. Your tour lives forever on google and you don't pay any annual or monthly hosting fees ever. If you're more than 20 miles from downtown greenville, a slight travel fee may be negotiated.
Multiple Locations
Do you have a business with multiple locations? Ask about discounts for shooting more than one location. Have a neighbor business that might like this service? Get them to go in with you on a shoot, and you'll both get the discount.
Licensing
You'll own the copyrights to your images once you've paid for the shoot. The images uploaded to google become google's property as well, but you can delete your tour at any time. Greenville Webworks will also retain some limited licensing to use your imagery for advertising their services, but you can revoke those rights at any point. You'll get a copy of all images sized to 6000×3000, embedded with 360 Meta information so you can upload them to your own facebook page, and other platforms in the future as 360 photography becomes more widely adopted.
Get Started Now
Contact us today at (864) 593-5930 or email jason@greenvillewebworks.com and we'll be happy to get you scheduled.
Get a Free Sample Photosphere
Use the form below to request a free sample shot. We'll stop by whenever is convenient for you, shoot a single photosphere. We can process it right there on a laptop, or email the sample to be reviewed later.  There is no obligation and no strings to getting your free sample photosphere. You can even post it to your facebook page.
You can also email us at jason@greenvillewebworks.com or call (864) 593-5930 for more information.
Portfolio
Kitchen Sync – Greenville, SC