Expert Web Design &
Development for Small Business
We specialize in creating functional, mobile responsive websites for our clients of all sizes – across a wide array of industries. Your website – built on WordPress – and optimized for search engines to improve visitor experience. Everything you need, and nothing you don't.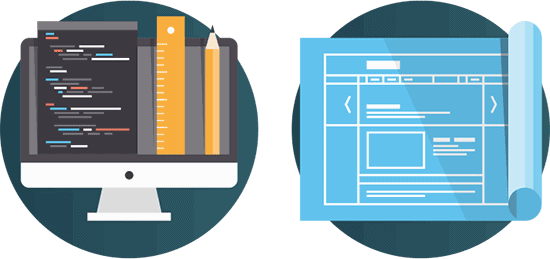 More than Just Web Design
Your website needs to be tailored to the needs of your customers. Optimized not just for search engines, but people. It has to load quickly on a wide variety of devices, be well organized, and provide clear calls to action and provide hidden data that search engines and social media sites utilize. We have the experience, tools, and know-how to use them.
Why You'll Love Us
We're a small business and so are our clients. We explain your options in plain English and ensure your needs and goals are met and your project completed in a timely manner. We respond to calls and emails quickly, and you'll talk directly to the designer/developer.
We have the experience and know-how to build out customer-centric websites in a multitude of industries that function beautifully on desktops, tablets, and smartphones. Request a quote on your project today. We'd love the opportunity to make your website look professional and put your business in the spotlight.
Let us Sweat the Small Stuff
Let us be your guide through the jungle of acronyms. We've got years of expierience dealing with this stuff and can make sure the process is seamless.
Kristen Lawson

Working with Jason has been a wonderful partnership. He listens to the clients needs, comes to the table with solutions and builds beautiful websites that are easy for non-developers to update and manage. He was extremely responsive and I look forward to working with him on many future website projects.
Clayton Kale

I've worked with Greenville Webworks on multiple website projects. From planning to launch to making adjustments, adding features, or answering questions, the team at Greenville Webworks is easy to work with and very responsive. If you're looking to launch or rebrand a website for your business, I highly recommend working with Greenville Webworks.
Want to ask a question? Ready to get started?
Our Promise: No Spam emails. No unwanted Calls.