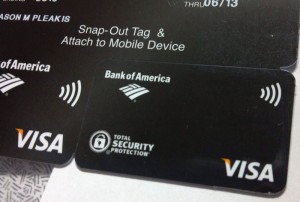 Bank of America now offers a Contactless Payment device called Tap & Pay aimed at mobile device users. The "Device" is really just an RFID chip – like those found in other smart cards, that allows you to make purchases without physically swiping a card through a terminal. The device is smaller – about 1″ x 2″ – basically the same size as the mini companion cards Bank of America customers may be accustomed to. How well does it work? Read on past the break to find out.
BOA's intent here was to make a device that could be slipped under a phones battery door, or between a phone and protective case. My initial test was with my Droid X2. The device fit snugly underneath the battery door, but when I went to pay, it didn't respond. Awkwardly I quickly sprung open the battery door and waved the card over the reader and voila. Of all the magic things that Droid does – allowing RFID waves to penetrate is battery door is not one of them – it's made of aluminum – it's so lightweight, I had forgotten about that little fact. Your best bet would probably be to slip it between the phone and a protective case. I like my phone au natural so I'm going to see if there are any plastic replacement doors available for my Droid.
Later on I ran to the local Rite-Aid an picked up a carton of ice cream. It was about $6 but this time I had the card in my wallet. I waved my wallet over the reader and this time presto – the screen flashed "Contactless Payment Initialized" and thereceiptprinter shot out my receipt. Like many credit cards, purchases under $25 do not require a signature, so this is literally the fastest you can possibly pay. No PIN, no signature, you don't even have to touch the terminal. It's magic. It makes you feel like you're from the future. It almost makes paying for stuff fun.
This technology is by no means new. I've seen RFID terminals popping up all over the place for the last year or two – why is it taking so long for the cards to get into circulation? When will BOA make these available to debit card holders? Lots of questions, but if you're a Bank of America credit card holder, if the question is when can I get one? The answer is now.
To request yours, log into your Bank of America account, click Customer Service then Credit Cards and choose Request a Tap & Pay Device. The devices are free, and take about a week to be mailed. I would recommend you get two – keep one in your wallet and one on your phone.
Citi Credit Card holders can request a Tap & Go device here.